Landspeak 2022: Visit / Cruinniú / Kiyokēwin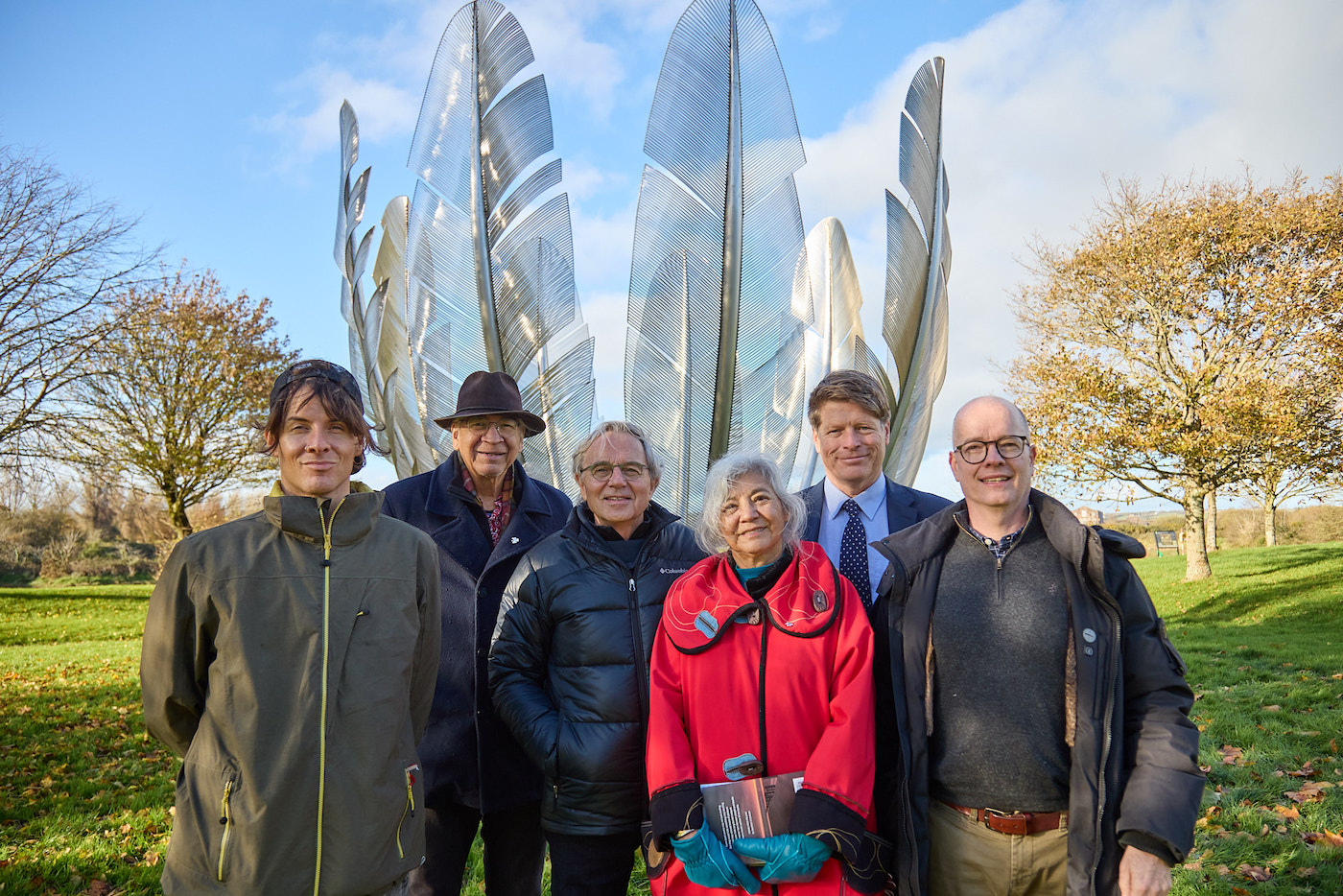 Pictured at the visit to the Kindred Spirits sculpture in Midleton, Cork are, from left to right: Brian Solomon, Joseph Naytowhow, Peter Butt, Louise Halfe, James Kelly, Paul Halferty
---
In collaboration with our partners, Landspeak convened Visit / Cruinniú / Kiyokēwin in November 2022, welcoming to Ireland a delegation of Indigenous artists from Turtle Island / Canada.
The aim of Visit / Cruinniú / Kiyokēwin was to build upon connections forged online during Landspeak: A Gathering of Indigenous and Irish Voices, a virtual conference that took place online in March 2021, and Reading the Truth and Reconciliation Commission Report (TRC), a weekly reading organised by Landspeak, reading of the TRC aloud among people from Turtle Island and Ireland, gathered online over the Autumn of 2021.
The visiting delegation for visit / cruinniú / kiyokēwin were:
Louise B. Halfe – Cree Poet Laureate of Canadian Parliament originally from Saddle Lake First Nation
Joseph Naytowhow – Cree knowledge keeper, singer and storyteller from Sturgeon Lake First Nation
Brian Solomon – Choreographer/ Dancer of Anishinaabe and Irish heritage, born in Shebahonaning / Killarney, Ontario
Meeting in person, and undertaking a variety of activities, Visit / Cruinniú / Kiyokēwin greatly strengthened connections among the Landspeak conference organisers and, at the same time, introduced these Indigenous artists, elders, and knowledge keepers to artists, academics, and community workers in Ireland, in an effort to create networks of collaboration and sharing that will foster cultural and knowledge exchange into the future.
---
Lucht fáiltithe · Welcoming group
The visit to Ireland was facilitated by a number of people, organisers and collaborators, who welcomed the visitors, opening pathways to collaboration and connection. Members of the lucht fáiltithe were:
Amanda Hopkins – Programme Manager, ICUF
David Stanton TD – Convenor, Ireland-Canada Parliamentary Friendship Group
James Kelly – CEO, ICUF
Liam Ó Maonlaí – Musician
Louise Allen – Director, Creative Futures Academy
Manchán Magan – Writer & documentary maker
Dr. Paul Halferty – Director Centre for Canadian Studies, UCD
Prof. Regina Uí Chollatáin – Principal, College of Arts and Humanities, UCD