Landspeak 2022: Visit / Cruinniú / Kiyokēwin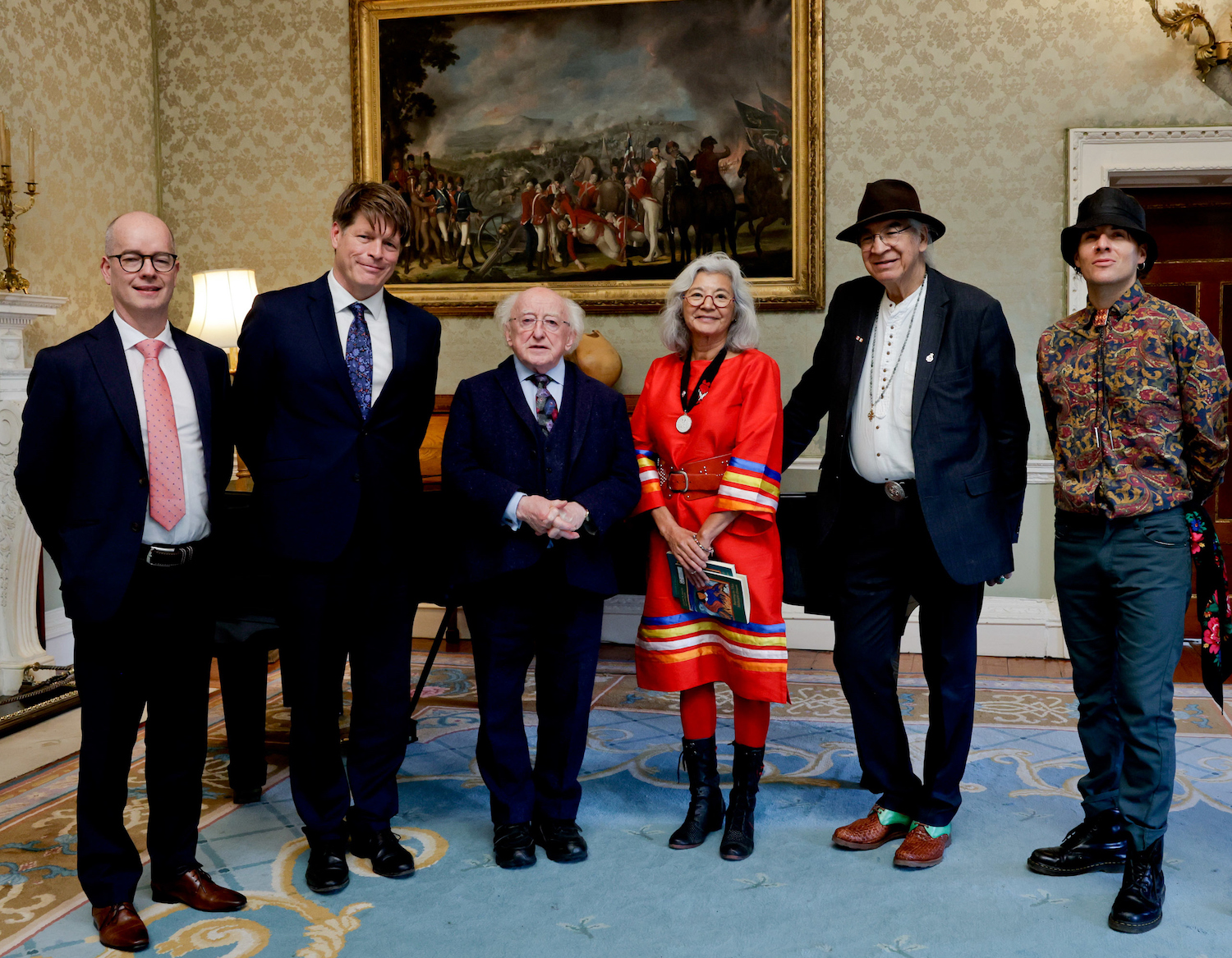 Pictured at Áras an Úachtaráin with President of Ireland, Michael D. Higgins (centre) are, from left to right, Dr. Paul Halferty (UCD), James Kelly (ICUF), Poet Laureate Louise Halfe, Joseph Naytowhow and Brian Solomon.
---
In collaboration with our partners (listed below), Landspeak convened Visit / Cruinniú / Kiyokēwin in November 2022, welcoming to Ireland a delegation of Indigenous artists from Turtle Island / Canada.
The delegation comprised of Louise B. Halfe (Cree Poet Laureate of Canadian Parliament, Saddle Lake First Nation), Joseph Naytowhow (Cree knowledge-keeper, singer and storyteller, Sturgeon Lake First Nation), and Brian Solomon (choreographer and dancer, of Anishinaabe and Irish heritage).
The aim of Visit / Cruinniú / Kiyokēwin was to build upon connections forged during Landspeak: A Gathering of Indigenous and Irish Voices, a virtual conference that took place online in March 2021, and Reading the Truth and Reconciliation Commission Report (TRC), a weekly reading of the TRC aloud among people from Canada and Ireland, gathered online over the Autumn of 2021. Learn more about Landspeak 2022: Visit / Cruinniú / Kiyokēwin »
The events presented by Landspeak are organised in partnership with the Ireland Canada University Foundation, University College Dublin, and the ᑭᕀ Kiy Collective.